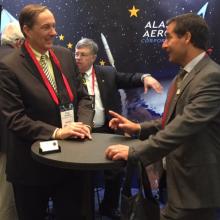 ANCHORAGE, AK: Alaska Aerospace Corporation (AAC) exhibited at the 33rd Space Symposium held in Colorado Springs April 4-6, 2017, hosted by the Space Foundation. The Space Foundation is a global, nonprofit organization and the foremost advocate for all sectors of the space industry. This is the fifth year that AAC had a booth at the Space Symposium to attract interest in the company and capabilities of the Pacific Spaceport Complex – Alaska (PSCA).

This year commercial space travel was a significant topic at the conference. With a record attendance exceeding 10,000, the Space Symposium provided AAC with an expansive audience from which to introduce the launch services capabilities Alaska offers to the commercial launch vehicle and satellite industry. "This year's event marked a significant increase in commercial companies that stopped by our booth to inquire about launch opportunities." stated Mark Greby, AAC Senior Vice President and Chief Operating Officer.

Located within the "Boeing" Exhibition Hall, the AAC team spent three full days talking to potential customers and exposing a large audience to the unique launch capabilities offered from PSCA. Many international agencies, such as the Japan Aerospace Exploration Agency (JAXA) and the United Kingdom Space Agency, stopped by the booth to learn more about PSCA's mobile capabilities and services that could be offered to advance international space launch cooperation. "It was a real opportunity to explain to international agencies and companies, AAC's range safety and telemetry service capabilities, such as we are currently providing to Rocket Lab at their New Zealand Mahia Peninsula Launch Facility." explained John Cramer, AAC Consultant.

"The Space Symposium provides AAC the most effective venue to tap into the emerging small and ultra-small commercial launch vehicle market, complementing our current government customer operations at PSCA." said Craig Campbell, AAC President and Chief Executive Officer. "As we continue to diversify our customer base between government and commercial customers, this event allows us to cost effectively reach out to a wide range of potential domestic and international customers in a very concentrated period of time."

Alaska Aerospace Corporation is a state-owned corporation established to develop a high-technology aerospace industry in Alaska. AAC owns and operates the Pacific Spaceport Complex – Alaska (PSCA) located on Kodiak Island offering all indoor, all weather, processing and to provide optimal support for both orbital and sub-orbital space launches to low earth orbit, sun synchronous orbit, polar orbit, and highly elliptical orbits such as Molniya and Tundra orbits. Its corporate headquarters is in Anchorage, Alaska with a regional office in Huntsville, Alabama.