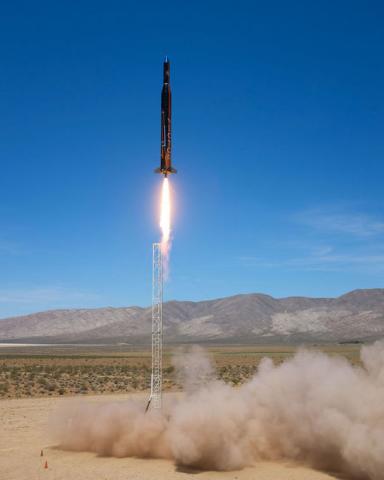 By ALISTAIR GARDINER al@kodiakdailymirror.com
Arizona-based small-satellite launch company Vector is planning to carry out its first orbital launches this summer at the Pacific Spaceport Complex-Alaska on Kodiak Island.
A Feb. 14 press release stated that the firm's first orbital launch is planned for July but did not disclose any further details. On Feb. 15, Jim Cantrell, co-founder and CEO of Vector, announced that the first orbital launch of the firm's Vector-R rocket would be taking place on Kodiak during a discussion at the Canadian SmallSat Symposium in Toronto.
"Our first launch is from Kodiak," said Cantrell. "It will have a small payload, and we'll have a test payload on it, as well."
The firm, which was founded in 2016, manufactures a number of different launch vehicles including the Vector-R, which can carry up to 66 kilograms into orbit, and the Vector H, which can carry 110 kilograms. Vector COO and co-founder Jon Garvey explained that historically small satellites have relied on secondary launches aboard larger rockets with other purposes, leaving the small-satellite client with little choice of destination and launch schedule.
With its smaller rockets and mobile launch platform, Vector offers a launch services focusing on servicing small satellites. Vector's website states the firm can provide "frequent and reliable space access allowing you to go where you want when you want."
According to Garvey, this means you can get into space for millions of dollars instead of hundreds of millions.
"You control your launch schedule much better. … There's less risk. … You can go on the orbit you want to," said Garvey. "If you're developing a constellation with 90-100 satellites and they need to be placed to get global coverage. … We want to give our customers a diverse set of options."
Garvey said that, as it stands, the firm plans to do its first three orbital launches at the facility in Kodiak, although this depends on a number of variables, including whether they have an interested customer who wants to launch from elsewhere. Garvey noted that the primarily aim of these launches is to test the product and the process, but if an interested customer expresses interest in putting a payload aboard, Vector will consider it.
Garvey said the firm is interested in Kodiak for a number of reasons, including the fact that the facility is not tied to a federal agency (like NASA), the isolation of the facility and the lack of any nearby population – all of which makes the logistics of organizing a launch far less complicated.
"Right now, from our perception, there's a little more we can do in Kodiak," he said. "As best as we can forecast, Kodiak looks like the place where we can get all our checkpoints done quickly."
Other factors that work in Kodiak's favor include the fact that many other launch sites have high levels of activity, which make scheduling difficult and the fact the Kodiak has access to polar orbits. Garvey explained that a satellite in polar orbit stays synchronized with the sun's position. If, for example, the purpose was collecting satellite imagery, a polar orbit means you can avoid the interference of shadows. According to Garvey, the only other site that offers opportunities for polar orbit launches is the Vandenberg Air Force Base in California. The military activity at that site, however, which makes launches trickier to organize.
"There's a lot of interest in polar launches, which will drive a lot of our market," he said. "At this point, Kodiak – because it is pursuing this kind of launch – that's why they're a very interesting candidate for us."
Vector has already worked with Pacific Spaceport Complex-Alaska a number of years ago, when the firm did a pathfinder exercise, which is a preliminary exploration into how they'll launch the rocket. Garvey said that they're planning three test launches in Kodiak in the summer, but are still in discussion with a number of other launch sites across the country.