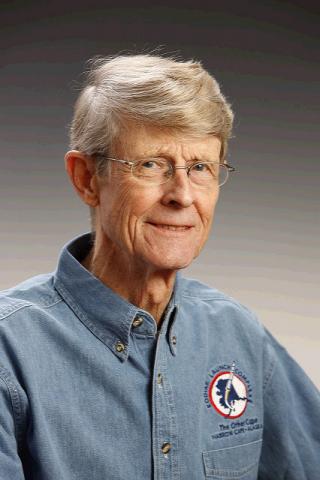 The Pacific Spaceport Complex – Alaska (PSCA) today dedicated the Launch Operations Control Center (LOCC) in honor of Ed Allen. Mr. Allen started working at the Kodiak Launch Complex in 1998. As part of the early development team for the launch facility, his leadership and over 50 years expertise in the rocket launch business proved critical in resolving challenging problems with building a complex rocket launch facility at Narrow Cape on Kodiak Island. In 2002 he was hired to oversee engineering and business development for Alaska Aerospace Corporation (AAC), culminating with his promotion to Chief Engineer and Director of Business Development.
"Ed was a leader in the aerospace industry who continued working at AAC until just a month before he died." commented Craig E. Campbell, AAC President and Chief Executive Officer. "Alaska would not have this valuable aerospace asset at PSCA today, had it not been for Ed's dedicated involvement from the beginning."
In a prepared statement, AAC Board of Directors Chair, Dr. Robert McCoy stated "Ed was knowledgeable, competent, and loved by all. He will be missed. It is very appropriate that the Launch Operations Control Center at the newly renamed Pacific Spaceport Complex – Alaska be dedicated permanently to the memory of Ed Allen."
During the dedication ceremony, Senator Gary Stevens (R-Kodiak), read a legislative citation in honor of Mr. Allen, passed during the first regular session of the 29th state legislature. He then presented it to Mrs Beverly Allen. Also in attendance were University of Alaska – Anchorage Chancellor and former AAC Chief Operating Officer, Tom Case, Department of Military and Veterans Affairs Commissioner Brigadier General Laurie Hummel, staff for Representative Louise Stutes (R-Kodiak), former and current AAC employees, and many friends.
A bronze plaque was installed at the entrance to the PSCA LOCC dedicating the facility to Ed Allen, "AAC's First and Foremost Chief Engineer.". Inside the LOCC a framed picture of Mr. Allen was hung next to the original legislative citation in honor of his outstanding commitment to Alaska and the aerospace industry.
Alaska Aerospace Corporation is a state-owned corporation established to develop a high-technology aerospace industry in Alaska. AAC owns and operates the PSCA and is the worldwide distributor for BlackBridge's RapidEye multispectral imagery of Alaska. AAC's corporate offices are in Anchorage, Alaska.