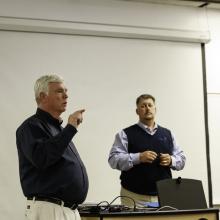 By JOANN SNODERLY joann@kodiakdailymirror.com | Posted: Friday, June 16, 2017 9:00 am
Representatives of Alaska Aerospace Corporation on Wednesday said they hope to increase launch frequency from Kodiak Island to at least three to four launches per year at a town hall meeting in Kodiak.
Increasing launch frequency from Kodiak will require attracting commercial customers, said Barry King, Alaska Aerospace director of range operations. Alaska Aerospace operates the Pacific Spaceport Complex-Alaska located at Narrow Cape on Kodiak Island.
The company sees opportunity in the developing small launch vehicle market.
Currently, companies or organizations that need to launch a small nano-satellite or cube satellite typically hitch a ride with a larger payload, taking up unused space in the launch vehicle at a lower cost. Limited space and launch frequency have generated a backlog of customers hoping to get their small satellites into orbit, said John Cramer, AAC director of administration and facilities.
In response to that demand, launch vehicle companies like Rocket Lab and Vector Space Systems are developing small rockets that can be launched often and inexpensively.
On May 25, Rocket Lab successfully launched its small Electron rocket from New Zealand. Alaska Aerospace provided a mobile range safety and telemetry system and support personnel to assist in that launch.
"The industry is changing, and it's really been changing in the last five years, and nobody in the small launch vehicle community has been successful yet to get a small, cheap vehicle operating frequently," King said. "But we think the Rocket Labs and a couple other customers that we're talking to are going to be successful over the next year, and then these small guys have a ride they can afford."
As the industry develops, Alaska Aerospace hopes to attract these companies to the PSCA. It is a new direction for the company and the launch facility.
A total of 17 launches have occurred from the Kodiak launch facility since its first launch in November 1998, including the failed August 2014 launch that was destroyed moments after takeoff, damaging structures and shuttering the facility to launches until repairs could be completed.
All 17 have been government launches, and the next two will be as well.
Repairs were finalized in late 2016 and the first activity since the 2014 incident is scheduled to occur this summer, when the U.S. Missile Defense Agency conducts two tests of the Terminal High Altitude Area Defense system from the complex.
According to King, however, Alaska Aerospace is currently negotiating with three commercial companies to launch from the Pacific Spaceport Complex-Alaska.
"We anticipate one to two (commercial missions) here next year," King said.
AAC has a signed contract with one commercial customer for launches from Kodiak. Company leadership has thus far declined to name the customer.
"Our goal is to have a large share of (the small launch vehicle) market. That's really where we want to take PSCA," King said. "We still want to have our government customers, but we want a large share of that small satellite, small launch vehicle market to be launched out of here."
According to Cramer, "That's what's coming. That's the future."
Snoderly can be reached at (907) 512-2624. Follow her on Twitter, @KDMjoann