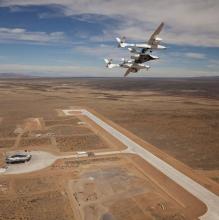 Small rockets, big dreams: More spaceports taking root – Author: Trevor Hughes, USA TODAY – Published: 8:45 PM EDT May 2, 2018 – Updated: 2:26 PM EDT May 3, 2018
WATKINS, Colo. — A ribbon of concrete runway on Colorado's eastern plains is poised to become the cutting edge of civilian spaceflight if local boosters realize their long-held dreams to travel anywhere in the world in just minutes.
Known as Spaceport Colorado, the nascent launch complex about 30 miles east of Denver is awaiting final federal approval to join nearly a dozen sites around the country hoping to cash in on the commercialization of space travel and inexpensive satellite launches.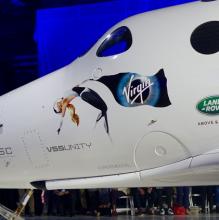 Because most of the sites are in out-of-the-way places, such as Kodiak Island, Alaska, or Truth or Consequences, N.M., they've largely remained under the radar and out of the public eye. Instead, high-profile sites like California's Vandenberg Air Force Base — set to launch a Mars probe Saturday — grab the spotlight.
That could be changing with a move toward cheaper and smaller rockets.
A more sophisticated complex in New Mexico has already seen multiple private rocket launches as companies such as Virgin Galactic and SpaceX race toward providing inexpensive space travel. And backers are promoting spaceports from Alaska to Hawaii and Virginia to Alabama as they jockey for a slice of a potentially trillion-dollar industry.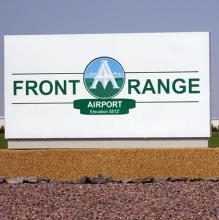 "We've gotten all the hard stuff figured out — now it's just a matter of money and getting things built. This is real and it is happening," said David Ruppel, director of Colorado's Front Range Airport, which he's hoping to transform into Spaceport Colorado.
Congress created the commercial space launch sector in 1984, and since then most of the launches have been of large rockets thundering off the pads at Cape Canaveral and Vandenberg.
But experts say the launch future lies with tiny satellites that are cheaper to make, fly and replace. Along with those rockets comes the technology to fly rocket-powered airplanes through the upper atmosphere, potentially cutting travel time to 90 minutes from any two points around the globe.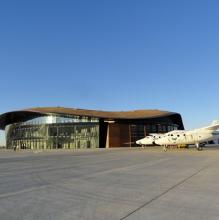 Scientists are perfecting two kinds of launches: the vertical kind we normally associate with rockets and horizontal launches and landings similar to a normal airplane
The future is small
One of the busiest civilian spaceports is Spaceport America in southern New Mexico. Boasting permanent tenants that include Richard Branson's Virgin Galactic and Elon Musk's SpaceX, the world's only purpose-built commercial spaceport sprawls over nearly 30 square miles and has already seen more than 100 vertical rocket launches.
Funded initially by state taxpayers, the spaceport has a concrete runway that's more than two miles long and multiple pads for vertical launches. The facility has become so sophisticated it now offers tours for curious visitors starting at $50 each.
In addition to the vertical launches, Spaceport America has also seen multiple Virgin Galactic test flights of its combined aircraft-rocket system, which uses a special airplane to carry aloft a rocket that will take people into space, initially as tourists.
"We will look back at this phase and realize we were rewriting history," said Daniel Hicks, Spaceport America's CEO.
For decades, space launch sites have been selected because they're close to oceans, where rocket boosters can safely be jettisoned and wayward launches aborted. But new technology is changing things fast, especially the miniaturization of technology to the point where a single iPhone contains more computing power than NASA had for the Apollo missions.
Smaller satellites ride aloft on smaller rockets that don't need external boosters or tanks like the space shuttle, can easily be shipped by plane or barge and can be quickly assembled anywhere.
That's what Craig Campbell, the president and CEO of Alaska Aerospace, is counting on. Alaska Aerospace runs a vertical-only launch site on Kodiak Island and is hoping to ramp up to a rocket launch every two weeks, specializing in satellites about the size of shoe boxes.
The launch site got its start in 1990 when a state lawmaker read a USA TODAY story about a commercial spaceport being developed at Cape Canaveral. Like the New Mexico and Colorado spaceport sites, the Kodiak Island launch site got its start thanks to local government, although it now receives no state funding.
"I'm trying to capture that emerging market in small satellite vertical launches because that's where the revenue is. It's happening," Campbell said. That represents a significant shift for Alaska Aerospace's Pacific Spaceport Complex-Alaska, which through 2014 had launched nearly 20 government rockets before a large portion of the facility was destroyed when a military launch went awry.
After rebuilding, the state-owned company decided to diversify into commercial launches as well as create a cadre of experienced civilian technicians who could be contracted out to other spaceports around the world.
Campbell also sees a time when his spaceport serves Alaska's booming tourist market. Today, the biggest challenge for tourists is just getting them to the state known as the Last Frontier. With rocket-powered craft zipping around the globe in minutes, Campbell sees an opportunity for growth.
Those craft, sometimes known as Concept X vehicles, are what Spaceport Colorado hopes to host. In addition to carrying passengers, they could also send small satellites into orbit by carrying a rocket aloft and then launching it from high altitude, which Virgin's Orbit arm is pursuing.
A vision in the making
Today, Spaceport Colorado is not much more than a dream and some paperwork, although traditional flight schools and private pilots use the airport's long runways.
There's no sign advertising the space launch plans, although commercial real estate companies are accepting offers on privately owned farmland surrounding the site. Ruppel said that's the beauty of horizontal launches: They don't need the same kind of infrastructure that vertical rockets need. Ultimately, he envisions Spaceport Colorado as part of a network of sites around the world home to commercial flights, the way nearby Denver International Airport serves traditional airplane travelers.
Back in New Mexico, Hicks and Spaceport America are hedging their bets. They expect to serve both kinds of launches for decades to come as an entire economic development engine evolves to surround the complex, which is about 100 miles north of El Paso and 150 miles south of Albuquerque.
"The vision is an intermodal port to space that can support the nation's and the world's needs," Hicks said. "The space industry is entering an exciting time. All the stars are aligning."