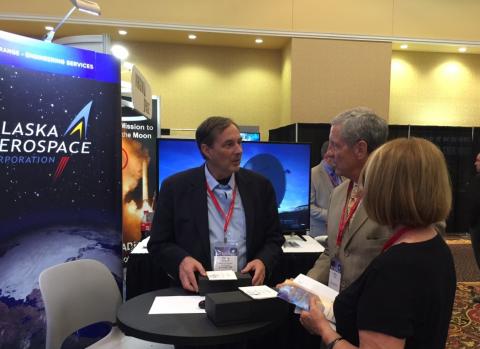 ANCHORAGE – The Alaska Aerospace Corporation (AAC) completed a highly successful exhibition at the 32nd Space Symposium in Colorado Springs. The Space Symposium, sponsored by the Space Foundation, has become the nation's premier space forum for the international commercial aerospace industry and government agencies.
For the fifth year in a row, Alaska Aerospace hosted a booth in the main exhibition hall, highlighting the distinct advantage of aerospace operations from Alaska and the capabilities of AAC to serve the commercial launch industry worldwide. This year, the AAC booth had a record number of visitors since first hosting a booth in 2012.
AAC Senior Vice President Mark Greby explained that "Following the 2014 launch failure, this year's symposium presented AAC a great opportunity to affirm to the aerospace industry that the Pacific Spaceport Complex – Alaska (PSCA) would return to operational status later this year with the completion of reconstruction this summer. This year's exhibition also allowed AAC to highlight how the company is diversifying our business model and pursuing new ventures globally."
"This year's symposium was dynamic, with numerous new contacts being made for AAC services. I am confident that this year AAC will secure new business contracts as a result of participating in the exhibition." stated Matt Steele, AAC Vice President for Business Development.
The symposium featured the world's latest space technology, products and services and attracted over 9,000 attendees. This year, Rocket Lab USA announced the first launch of the Electron rocket will occur in mid-2016 from the Mahia Launch Site, New Zealand. Alaska Aerospace will be supporting this mission with the Range Safety and Telemetry System (RSTS), as well as providing the Range Safety Officer (RSO).
Alaska Aerospace Corporation is a state-owned company headquarters in Anchorage that operates the Pacific Spaceport Complex – Alaska, as well as offering range support, launch services, and sales of Alaska satellite imaging data worldwide.