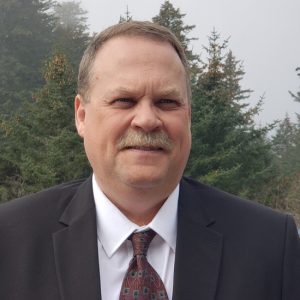 KODIAK, AK June 1, 2020:  Alaska Aerospace Corporation is proud to announce the promotion of Robert Greene to President of Aurora Launch Services effective immediately.  Rob will be responsible for leading all aspects of Alaska Aerospace's subsidiary, including managing launch services to the Pacific Spaceport Complex – Alaska (PSCA) on Kodiak Island as well as other spaceports.  This move follows the planned retirement of Craig Campbell from the role in May 2020.
"Rob has proven to be a great addition to our operational team as the PSCA Spaceport Manager. I have been impressed with his quick ability to apply his airport experience and Kodiak know-how to the challenges and opportunities at the spaceport.  Promoting him to Aurora Launch Services President is a testament to his capabilities and provides important Kodiak- based executive leadership.", said Alaska Aerospace CEO Mark Lester.
Mr. Greene will continue to serve as the PSCA Spaceport Manager as he takes on his new President responsibilities.
Mr. Greene is a lifelong resident on Kodiak, graduate of Kodiak High School, and former Alaska Department of Transportation Regional Superintendent.   His 21-years' experience managing the Kodiak Benny Benson
State Airport and other state airports across the Aleutian Islands made him a top candidate in 2019 as PSCA's spaceport manager. "It has been an exciting first 8-months as the PSCA Spaceport Manager. I was surprised and honored when the Aurora Launch Services Board asked me to become the company's next President. I am proud of our spaceport employees and look forward to getting to know the other Aurora staff in Anchorage and Huntsville, Alabama. We have a lot of hard work ahead of us to fulfill the potential of the spaceport, but I know with teamwork our brightest days lie ahead." said Mr. Greene.
Mr. Campbell retires from the Aurora Launch Services President role after a 9-year tenure with the Corporation, including serving as the Alaska Aerospace Corporation President and CEO and establishing Aurora Launch Services in 2017. "Craig has been a tremendous asset to Alaska Aerospace and Kodiak's spaceport. The organization owes him a debt of gratitude for ensuring the future of the spaceport during very tough times.  I have appreciated his mentorship and wish him and Anne Marie all the best in retirement." said Mark Lester.
Aurora Launch Services, LLC, is a wholly-owned subsidiary of the Alaska Aerospace Corporation.  The company provides low-cost agile technical and professional services to the emerging small-lift commercial space launch market worldwide.  Aurora Launch Service is the primary technical services provider to PSCA and Alaska Aerospace.
Alaska Aerospace Corporation was established in 1991 by the State of Alaska to develop a high technology aerospace industry in the state. In addition to managing PSCA on Kodiak Island, Alaska Aerospace owns mobile instrumentation to support other launch sites and is assessing other commercial spaceports meet growing demands in the government and commercial markets for access to space.
The Pacific Spaceport Complex – Alaska (PSCA), formally known as the Kodiak Launch Complex, is a state-of- the-industry FAA-licensed multi-user spaceport. As only one of four orbital launch sites in the United States for vertical rockets, it is an important asset for America's assured access to space.  Since its' first launch in 1998, PSCA has gained a reputation of being a responsive, flexible, and low-cost.