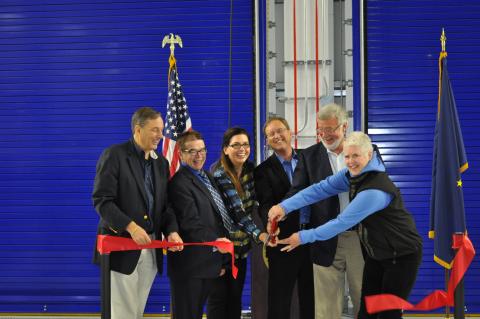 KODIAK, AK.
On Saturday, August 13th, Alaska Aerospace Corporation and the Kodiak Chamber of Commerce hosted a ribbon cutting ceremony at the Pacific Spaceport Complex – Alaska (PSCA) commemorating completion of the rebuilding of damaged facilities caused by the launch failure in August 2014.
The event was held in the rebuilt Integration Processing Facility (IPF), one of the most significantly damaged buildings. An audience of nearly 100 local residents and invited guests toured the facility and had the opportunity to view the rebuilt Launch Support Structure.
Speaking at the event, both Senator Gary Stevens (R-Kodiak) and Representative Louise Stutes (R-Kodiak) stressed the importance of diversifying the Alaskan economy and the benefit that the launch site provides to the local community during each launch campaign. Ms. Jenith Flynn, representing Davis Constructors, stated "The combined efforts of the many contractors and subcontractors on this project are reflected in the outstanding facilities that have been rebuilt here at PSCA. It was a real Team effort." Davis Constructors, an Alaskan firm, was the project's general Contractor. As an Alaskan company, they used a majority of other Alaskan companies in the rebuild process.
Kodiak Island Borough Mayor, Jerrol Friend, commended the construction team for the excellent work in restoring the facilities, and stated that having the PSCA operational once again is going to be good for the local economy.
Craig Campbell, AAC President and CEO, stated "With completion of this project, PSCA is ready to welcome new launches supporting both government and private sector companies." Over the past few months, AAC has signed a multi-year contract with the Missile Defense Agency (MDA) for launches from the PSCA through 2021. AAC is also working with two private companies, Rocket Lab USA and Vector Space Systems, for commercial launches from PSCA as early as next year.
Alaska Aerospace Corporation (AAC) is a state owned company established to expand the aerospace industry in the state. AAC owns and operates the Pacific Spaceport Complex – Alaska located at Narrow Cape on Kodiak Island.