GABE STUTMAN gabe@kodiakdailymirror.com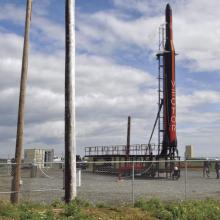 KODIAK — A spaceflight startup rehearsed its launch procedures this week at the Kodiak spaceport.
Arizona-based Vector Launch, Inc. conducted a telemetry test on Tuesday, to check communications between the rocket and the spaceport command center. On Wednesday, it performed a fueling test.
During both, employees raised a 43-foot replica of the "Vector-R" rocket to a vertical position on launch pad C, where the company hopes to launch later this year.
The actual Vector-R rocket – to be used for transporting small satellites into orbit, quickly – is currently being built at the company's manufacturing center in Tucson, Ariz.
The model, called a Manufacturing Engineering Unit or an MEU – stood-in as employees practiced loading a simulation payload, moving the vehicle from its processing facility to the launch pad, standing it up using a mechanical arm called a "strongback," and fueling procedures.
"We're doing this now to mitigate risk," said John Garvey, an executive and one of the company's co-founders.
The MEU looked identical to the Vector-R on the outside, but on the inside it lacked an engine, fuel tanks, and some electronic equipment.
Garvey said one of the purposes of the test is to acquaint Alaska Aerospace Corporation employees with Vector's launch procedures.
"We are 'socializing' the rocket, so when we move to the next phase, they'll be comfortable with our operations," he said.
On Wednesday afternoon, a team of 10 Vector employees – executives, engineers and operations staff – prepped the model for its second test in two days.
Garvey stressed that to be competitive, his company will need to prove that its rockets can launch more efficiently – and more quickly – than the competition. The "R" in Vector-R stands for "rapid."
"We're focusing on how we can shorten the trip," he said, as workers hitched the vehicle to a truck.
Vector is one of a number of startups in the spaceflight industry looking to capitalize on the booming small satellite market. Customers including the U.S. military, which is looking to implement a more nimble satellite network, and private companies engaged in mapping, imaging and communications services, are looking for ways to get their technology into orbit as efficiently as possible. And to do it repeatedly.
Garvey counted the minutes as they passed. He checked the time as the gate of the Payload Processing Facility opened. The PPF is a cavernous room meant for preparing the rocket's cargo.
On the short drive down to the launch pad, Garvey, who wore circular 1960s-style sunglasses and a brown bomber jacket with "Vector" on the lapel, and Shaun Coleman, the company's first investor and public relations director, trailed closely behind in an SUV.
Garvey expressed lofty visions for his company. He said in the future, Vector hopes to launch multiple rockets per day.
For now, however, the company is still prepping for its first orbital launch, which it hopes will be later this year in Kodiak.
After about five minutes, the model arrived at the launch pad – a gravel patch about the size of a tennis court, at the edge of Narrow Cape, overlooking the Pacific ocean. It was slowly lifted into a standing position via a hydraulic ram.
A handful of Vector employees worked around the vehicle, while an Alaska Aerospace safety officer looked on.
While vertical, employees hooked liquid oxygen tanks to the MEU, and burned off propylene, to simulate fueling.
Workers wore welding masks, bibs and thick gloves for protection from the liquid oxygen, whose freezing temperature can burn skin.
Since the model did not contain fuel tanks, the oxygen dissipated in the air, creating a mist.
During a real launch, fueling would take by far the longest of any of the pre-launch procedures – about 2-3 hours. And much more fuel would be needed, roughly 3,000 gallons worth. For the test, the amount burned was about the size of a propane tank in a small gas grill.
Garvey said he was pleased with the result.
"It was 25-minutes from when we rolled out of the building to going vertical," he said.
Certain needs were identified. For one, the launch pad will need to be modified. Concrete will have to be poured over the part of the asphalt that the rocket launches over, to prevent flying debris. And a gate will need to be built on the pad's rear fence to allow for the blast to exit without doing damage.
The company is also looking to get a better network connection to the pad to enable live streaming in high-definition.
Vector hopes to test using the actual Vector-R later this year, and launch at some point after that. Though it's executed multiple tests since forming in 2016, including a suborbital launch from Camden, Ga. in 2017, the company is still anticipating its first orbital launch.
Vector secured approximately $22 million in venture capital funding since launching two years ago. It also inked a deal worth up to $60 million with York Space Systems, a Colorado-based spacecraft company, and received $4.3 million from DARPA, a military agency.
Coleman said the company is currently in the process of closing out another round of funding.
The Vector-R will carry two satellites – "PocketQube" nanosatellites manufactured by Glasgow, Scotland-based Alba Orbital – into polar orbit.
Garvey said Kodiak was chosen for a number of reasons, including its relative lack of vehicle traffic and its location over the Pacific ocean, which provides opportunity to launch in an azimuth, or flight path, far from population centers.
Dry runs, dress rehearsals and on-site tests are meant to work out the kinks. For example, where to get supplies in Kodiak in a pinch. During a test on Tuesday, the crew realized the proper fuel line adapter was not delivered. So it went to Island Hydraulics, in Kodiak, where it found the needed piece.
Engineers are also getting used to the climate in Alaska, noticing that hydraulic fuel, for example, behaves differently in 40-degree temperatures than it does in the Arizona desert.
"We've worked in temperature extremes in the heat – we have not worked in temperature extremes in the cold," Coleman said. "One of the things that we are going to do is as the temperature changes, we're going to perform some of the operations again, to get acclimated to the colder environment."
Garvey said that while he wants to move quickly, the company has chosen to take a relatively measured approach relative to other spaceflight startups. They've invested heavily in what's called CONOPS, or concept of operations, to model systems before they are implemented. They have commissioned drawings that some might consider unnecessary.
"A lot of people do not invest as much in CONOPS, and they get bit," Coleman said.
"It's painful because you want to run faster," Garvey said. "But we're investing in the future."